The Way Forward: Master Life's Toughest Battles and Create Your Lasting Legacy (Hardcover)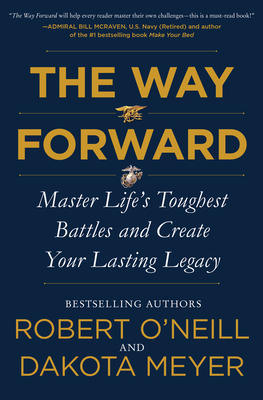 $28.99

Usually Ships in 1-5 Days
Description
---
NATIONAL BESTSELLER
"The Way Forward will help every reader master their own challenges—this is a must-read book!" —Admiral Bill McRaven, U.S. Navy (Retired) and author of the #1 New York Times bestseller Make Your Bed
American Sniper meets Make Your Bed in these life lessons from decorated United States service members and New York Times bestselling authors Robert O'Neill and Dakota Meyer—an in-depth, fearless, and ultimately redemptive account of what it takes to survive and thrive on battlefields from Afghanistan and Iraq to our daily lives, and how the perils of war help us hold onto our humanity.
Rob O'Neill and Dakota Meyer are two of the most decorated and recognized US service members: O'Neill killed the world's most wanted man, Osama bin Laden, and Meyer was the first living Marine to receive the Medal of Honor since the Vietnam War. But beyond their actions and courage in combat, O'Neill and Meyer also have much in common in civilian life: they are both sought-after public speakers, advocates for veterans, and share a non-PC sense of humor. Combining the best of military memoirs and straight-talking self-help, The Way Forward alternates between O'Neill's and Meyer's perspectives, looking back with humor at even the darkest war stories, and sharing lessons they learned along the way.
The Way Forward presents O'Neill and Meyer's philosophy in combat and life. This isn't a book about the glory of war and combat, but one about facing your enemies, some who are flesh and blood and some that are not: Your thoughts. Your doubts. Your boredom and your regrets. From Rob's dogged repetition at the free throw line of his childhood basketball court to Dakota's pursuit of EMT and firefighter credentials to aid accident victims, these two American heroes turn their experiences into valuable lessons for every reader.
Gritty and down-to-earth, O'Neill and Meyer tell their stories with candor and vulnerability to help readers handle stress, tackle their biggest obstacles, and exceed their expectations of themselves, while keeping life's battles in perspective with a sense of humor.
About the Author
---
Robert O'Neill is one of the country's most highly decorated Navy SEAL combat veterans, involved in our nation's most strategic military campaigns, including the mission to kill Osama Bin Laden. By the time he was honorably discharged after almost 17 years of service, O'Neill held combat leadership roles in over 400 missions across four different theaters of war. Among his 52 decorations are two Silver Stars, four Bronze Stars with Valor, a Joint Service Commendation Medal with Valor, and three Presidential Unit citations. O'Neill is the author of The Operator, his New York Times bestselling account of his years as a SEAL and the hunt for Bin Laden. Today, he is a public speaker, security consultant, philanthropist and FOX News contributor. Through his charity, the Special Operators Transition Foundation, O'Neill works to raise awareness and financial support for special operations military personnel making the difficult transition from the battlefield to the boardroom. He is from Butte, Montana.
Dakota Meyer is a United States Marine and veteran of the war in Afghanistan who became the first living United States Marine in 41 years to receive the Medal of Honor, for his actions during the Battle of Ganjgal on September 8th, 2009. His book about the events of that day, Into the Fire, was a New York Times bestseller. Today, Meyer serves in the Individual Ready Reserve of the US Marine Corps Reserve, is an advocate for American veterans, the creator of the podcast Front Toward Enemy with Dakota Meyer, and the entrepreneur behind Own The Dash and Flipside Canvas. Born and raised in Columbia, Kentucky, Meyer is a father of two beautiful daughters and lives in Austin, Texas.
Praise For…
---
"War stories with a motivational twist…Both authors suggest, knowingly, that the best plans don't often survive reality, but it's important to plan anyway, for "you're never out of the fight." — Kirkus Reviews
"O'Neill and Meyer are skilled storytellers. [They] offer plenty of advice for veterans navigating reentry to civilian life." — Library Journal
"Raw, funny, and poignant, each chapter is an important life lesson from two guys who have thrived in life's toughest battles. The Way Forward will help every reader master their own challenges—this is a must-read book!" — Admiral Bill McRaven, U.S. Navy (Retired) and author of #1 New York Times bestseller Make Your Bed
"Rob and Dakota are the real deal—warriors. patriots. leaders. And damn good men. In this fantastic book, they turn the dangerous, the confusing, and even the crude moments of combat and life into meaningful, insightful and life-changing insights. This book will make you laugh…and learn how to forge a lasting legacy in the process. Their incredible stories alone are worth the price of admission, and then you walk away learning how to chart your own way forward. Buy this book—and learn how to stand up and face your enemies!" — Pete Hegseth, television host and bestselling author of American Crusade: Our Fight To Stay Free and Modern Warriors: Real Stories From Real Heroes
"The Way Forward is not only about the making of two of America's greatest heroes but a journey of how common men are forged by family, friends, and brotherhood to make extraordinary sacrifices for their nation. There is no political left or right in their lessons, just an exemplary show of honor, courage, commitment, and faith in protecting their fellow citizens. Their words are guideposts to changing your life and building your own legacy." — Malcolm Nance, former U.S. Navy senior chief petty officer and author of the New York Times bestseller Defeating ISIS: Who They Are, How They Fight, What They Believe

"In The Way Forward, two American heroes share their inspired messages that are designed to help you achieve and live a heroic life. This is impactful storytelling that implores you to listen." — Lt. Col Dan Rooney, bestselling author of Fly Into the Wind: How to Harness Faith and Fearlessness on Your Ascent to Greatness
"An inspiring, enthralling, and entertaining book packed with extraordinary anecdotes. I can't think of two people better equipped to be life coaches or offer leadership advice than these two great American heroes." — Piers Morgan, journalist and television personality