Operation Pedestal: The Fleet That Battled to Malta, 1942 (Hardcover)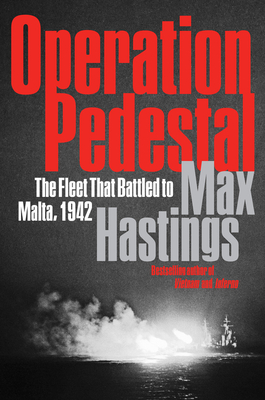 $35.00

Usually Ships in 1-5 Days
Description
---
Renowned historian Max Hastings recreates one of the most thrilling events of World War II: Operation Pedestal, the British action to save its troops from starvation on Malta—an action-packed tale of courage, fortitude, loss, and triumph against all odds.

In 1940, Hitler had two choices when it came to the Mediterranean region: stay out, or commit sufficient forces to expel the British from the Middle East. Against his generals' advice, the Fuhrer committed a major strategic blunder. He ordered the Wehrmacht to seize Crete, allowing the longtime British bastion of Malta to remain in Allied hands. Over the fall of 1941, the Royal Navy and RAF, aided by British intelligence, used the island to launch a punishing campaign against the Germans, sinking more than 75 percent of their supply ships destined for North Africa.
But by spring 1942, the British lost their advantage. In April and May, the Luftwaffe dropped more bombs on Malta than London received in the blitz. A succession of British attempts to supply and reinforce the island by convoy during the spring and summer of 1942 failed. British submarines and surface warships were withdrawn, and the remaining forces were on the brink of starvation.
Operation Pedestal chronicles the ensuing British mission to save those troops. Over twelve days in August, German and Italian forces faced off against British air and naval fleets in one of the fiercest battles of the war, while ships packed with supplies were painstakingly divided and dispersed. In the end only a handful of the Allied ships made it, most important among them the SS Ohio, carrying the much-needed fuel to the men on Malta.
As Hastings makes clear, while the Germans claimed victory, it was the British who ultimately prevailed, for Malta remained a crucial asset that helped lead to the Nazis' eventual defeat. While the Royal Navy never again attempted an operation on such scale, Hasting argues that without that August convoy the British on Malta would not have survived. In the cruel accountancy of war, the price was worth paying.
About the Author
---
Sir Max Hastings chronicles Vietnam with the benefit of vivid personal memories: first of reporting in 1967-68 from the United States, where he encountered many of the war's decision-makers including President Lyndon Johnson, then of successive assignments in Indochina for newspapers and BBC TV: he rode a helicopter out of the US Saigon embassy compound during the 1975 final evacuation. He is the author of twenty-six books, most about conflict, and between 1986 and 2002 served as editor-in-chief of the Daily Telegraph, then editor of the Evening Standard. He has won many prizes both for journalism and his books, of which the most recent are All Hell Let Loose, Catastrophe and The Secret War, best-sellers translated around the world. He has two grown-up children, Charlotte and Harry, and lives with his wife Penny in West Berkshire, where they garden enthusiastically. 
Praise For…
---
"An eye-level view of mortal danger set against a major inflection point during World War II. . . . Operation Pedestal is the story of desperate warriors shepherding a frail cargo through all the fire and steel their enemy can hurl. Mr. Hastings paints a portrait of naval combat with an artist's brush guided by more than a half-century of combat reportage. Compassionate toward men who braved bombs, torpedoes, fire and a cruel sea, he showcases the Royal Navy—along with the merchant vessels it guarded—at its finest hour." — Wall Street Journal
"Vividly chronicling the sinking of the aircraft carrier Eagle, Hastings initiates 250 pages of gripping fireworks and insights that continue well past Aug. 15, when five battered merchantmen limped into Malta's harbor. Real-world war is sloppier than the Hollywood version, even more so under the author's gimlet eye. . . . Another enthralling Hastings must-read." — Kirkus Reviews (starred review)
"Those who read Hastings' meticulously researched and clearly written account of Operation Pedestal will emerge with a greater appreciation of the dangers, continuous stress, and deprivations facing men who went to war at sea in WWII. . . . Hastings' treatment of this important but not often remarked on campaign belongs on the bookshelf of readers interested in World War II in Europe and of those looking for a reminder of what men can and are willing to do when the need is great and the cause is just." — American Spectator
"Military historian Hastings…delivers a sterling account of the August 1942 mission to bring food, oil, and other supplies to the besieged island of Malta…. Buoyed by prodigious research and vivid prose, this is a brilliant illumination of one of WWII's most dramatic episodes." — Publishers Weekly (starred review)
"Hastings, author of best sellers such as All Hell Let Loose and The Secret War, recalls an event that is often overlooked in World War II history: the four-day battle over a convoy relief mission that brought aviation fuel to besieged British forces in Malta. . . . the prolific Hastings weaves Allied and Axis participants' remembered accounts (which he acknowledges are often contradictory or embellished) and official archival documents into a free-flowing narrative. . . . Hastings should please his current fans and attract new devotees with this lucidly limned account, suitable for general readers and specialists alike." — Frederick J. Augustyn Jr., Lib. of Congress, Washington, DC