Now Is Not the Time to Panic: A Novel (Paperback)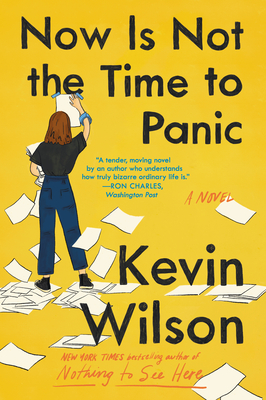 $18.99

Typically Ships in 1 - 2 Days
Staff Reviews
---
Pre-internet, when a pair of bored teens create an anonymous, enigmatic poster and hand out hundreds of copies, it has far reaching repercussions. Wilson writes straight forward, often humorous prose. Narrative voice not perfect, but this is a worthwhile look at the power of art.
— Eve
November 2022 Indie Next List
---
"Now is Not the Time to Panic is a tender coming-of-age novel on the power of art, the short-lived innocence of adolescence, and the nostalgia of first loves. Wilson's beautiful, funny, sad novel is one that I'll recommend again and again."
— Alex Brubaker, Midtown Scholar Bookstore, Harrisburg, PA
Description
---
NATIONAL BESTSELLER
Named a Best Book of the Year by: Time * Kirkus Reviews * USA Today * Entertainment Weekly * Garden & Gun * Vox * Atlanta Journal-Constitution
A Most Anticipated Book of Fall from: Associated Press * Atlanta Journal-Constitution * BookPage * Book Riot * The Boston Globe * Entertainment Weekly * Esquire * Garden & Gun * LitHub * St. Louis Post-Dispatch * Sunset Magazine * Time * Town & Country * The Millions * USA Today * Vogue * Vulture * The Week
An exuberant, bighearted novel about two teenage misfits who spectacularly collide one fateful summer, and the art they make that changes their lives forever
Sixteen-year-old Frankie Budge—aspiring writer, indifferent student, offbeat loner—is determined to make it through yet another summer in Coalfield, Tennessee, when she meets Zeke, a talented artist who has just moved into his grandmother's house and who is as awkward as Frankie is. Romantic and creative sparks begin to fly, and when the two jointly make an unsigned poster, shot through with an enigmatic phrase, it becomes unforgettable to anyone who sees it. The edge is a shantytown filled with gold seekers. We are fugitives, and the law is skinny with hunger for us.
When the posters begin appearing everywhere, people wonder who is behind them and start to panic. Satanists? Kidnappers? The rumors won't stop, and soon the mystery has dangerous repercussions that spread far beyond the town.
Twenty years later, Frances Eleanor Budge gets a call that threatens to upend her carefully built life: a journalist named Mazzy Brower is writing a story about the Coalfield Panic of 1996. Might Frances know something about that?
A bold coming-of-age story, written with Kevin Wilson's trademark wit and blazing prose, Now Is Not the Time to Panic is a nuanced exploration of young love, identity, and the power of art. It's also about the secrets that haunt us—and, ultimately, what the truth will set free.
About the Author
---
Kevin Wilson is the New York Times bestselling author of the novels Nothing to See Here, which was a Read with Jenna book club selection; The Family Fang, which was adapted into an acclaimed film starring Nicole Kidman and Jason Bateman; and Perfect Little World; as well as the story collections Tunneling to the Center of the Earth, winner of the Shirley Jackson Award; and Baby, You're Gonna Be Mine. His fiction has appeared in Ploughshares, Southern Review, One Story, A Public Space, and Best American Short Stories. He lives in Sewanee, Tennessee, with his wife and two sons.
Praise For…
---
"This is a wildly funny, wonderfully sincere — and a little bit devastating — story of art, our limitless past, future nostalgia and all those perfectly imperfect ways we continually come of age. Kevin Wilson's books are so full of heart. They're utterly indelible." — Courtney Summers, Washington Post 
"Wilson's fiction will have you laughing so much that you're not prepared for the gut punch that follows. . . . Now Is Not the Time to Panic is the heartfelt culmination of many years (and many pages) spent probing the tension between the urge to make a mark on the world and the costs of doing so—and the push-pull between art's disorienting and generative powers. . . . Go read Wilson's books. You'll discover one-of-a-kind worlds opening up." — The Atlantic
"Now Is Not the Time to Panic is a quirky, complicated story about the power of words and art, and the importance of adolescent friendships." — TIME (A Must Read Book of 2022)
"Now Is Not the Time to Panic plumbs both the intensity of an early creative experience and the strange way such experiences get preserved in the amber of our minds. The result is another tender, moving novel by an author who understands how truly bizarre ordinary life is." — Ron Charles, Washington Post
"A charming coming-of-age novel brimming with nostalgia." — People
"Wilson has developed a story that is a precise capture of adolescence and of two vibrant teens whose everyday dilemmas, weaknesses, and triumphs are utterly endearing . . . Crisp dialogue and [a] zipping story line." — Booklist (starred review)
"Full of compassion and gentle humor, this is a wise and winning novel about how youth haunts and defines us." — Esquire
"It's the kind of book your cool English literature teacher would recommend when you showed an interest in writing, the type of coming-of-age story that would have been equally destined for a banned books list and a summer reading list." — Vulture
"Kevin Wilson's Now Is Not the Time to Panic (Ecco) has the feel of a long-gestating work: a novel about creativity and childhood that seems as though its author has been mulling it since his own youth. It bears the markers of Wilson's style—cleverly cute without tipping over into saccharine territory….Though the book has an earnest heart, it's colored by Wilson's appealingly offbeat prose, so that even the most straightforward coming-of-age moments have a funky freshness." — Vogue
"Kevin Wilson once again deploys his customary humorous, off-center storytelling to artfully delve into deeper mat­ters…[his] deceptively transparent prose, with a touch of humor, a dash of satire and a good bit of insight, carries the reader to a humane and satisfying conclusion." — BookPage (starred review)
"[A] bighearted novel." — Vanity Fair
"[T]he latest glorious novel from Kevin Wilson. Now is Not the Time to Panic is about oddballs and misfits; it's about art, and how the making of art turns what's weird about you into what's magical about you." — OprahDaily.com
"Wilson's latest novel shows us again that he is at the top of his game, infusing this coming-of-age tale with his trademark sharp wit and deep understanding of love and the uncertainty that comes with fading youth." — Chicago Review of Books
"What Wilson so eloquently captures is that unique time in one's life when one small gesture of artistic self-expression — a madcap sentence about living on the fringes and embracing your eccentricities, come what may — really does have the power to change the world, or at least your perception of it." — San Francisco Chronicle
"[Wilson's] most emotionally nuanced and profoundly empathetic novel yet. . . . Wilson meaningfully crafts formed characters, allowing his work to register as a universal document of teenage turmoil as blessedly compassionate as it is cunning. Highly recommended as a sincere, sometimes brutal, but always sturdy study of the burden of both art and adolescence and a wonderfully evocative treatise on how we imprint ourselves on the world and learn to survive in that tumultuous wake." — Library Journal
"Wilson occupies a unique niche in literature. He is a master of creating indelibly peculiar characters with odd passions and traits…..All those peccadillos have a purpose, though. They give shape to the characters' humanity and fuel narrative arcs that tell evocative tragicomic stories about family, friendship, love and art that end on a note of cautious optimism. And honestly, isn't that the best we can reasonably hope for in life?" — Atlanta Journal-Constitution
"A seductive, highly imaginative story that testifies to the transformative power of art." — Associated Press
"A witty and charming coming-of-age story…[a] lighthearted examination of teenage tomfoolery, identity and the power of art." — BookTrib
"A book destined to become a cult classic, if not just a classic, period. . . . Now Is Not The Time to Panic departs from the comic surrealism of Wilson's previous novels . . . in favor of a kind of sepia-toned realism that never ceases to entertain. Frankie and Zeke are wholly original characters, their lives painful and true, and while this is a novel you can read in a single sitting, it is best devoured slowly, a treat for the heart and mind." — USA Today (four stars)
"[T]he Tennessee native spins tales so droll and clever and casually surreal, it feels less like reading than falling in with a delightfully subversive new friend." — EW.com