Vibrate Higher Daily: Live Your Power (Hardcover)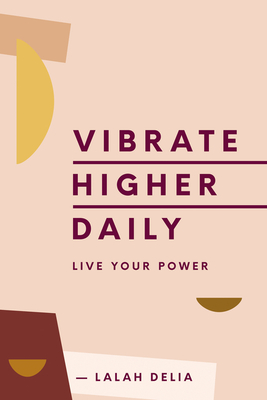 $23.99

Usually Ships in 1-5 Days
Description
---
Tap into your inner power with this mind-opening guide to vibrational-based living from Instagram star and self-help pioneer behind the internet community Vibrate Higher Daily.

"There is another way of being in the world. There is a better way to exist, rise, move beyond, and take our power back."
Too often we feel pulled down by circumstances or the negativity of others. We think we have no control over the things that are hurting us and holding us back from realizing our truest selves. But according to Lalah Delia, we have more power within us than we know: listen to your unique inner voice and trust your instincts. By doing so, you're already experiencing the transformative power of vibrational-based living.
Vibrating higher daily is about making intentional day-to-day choices that lift us out of mindsets, habits, and lifestyles that don't serve us and into ones that do. This book is an invitation to engage with everything that feeds our soul and raises our vibration, and to simultaneously let go of the things bringing our energy down. Through poetry, mantras, and affirmations, Lalah Delia empowers us to live with higher potential and quality of being.
Vibrate Higher Daily is a manifesto unlike any other for stepping into our power.
About the Author
---
LALAH DELIA is a spiritual writer, certified spiritual practitioner, wellness educator, and the founder of Vibrate Higher Daily, a vibrational based–living online community and mentoring program. Lalah has been an ambassador for Reebok's #BeMoreHuman campaign and a mentor for Target's wellness series 'TargetTag', has spoken at panels across the country like SXSW, In Goop Health, Girlboss Rally, and has been featured in Glamour magazine, mindbodygreen, Essence, Girlboss Radio, Well+Good, Black Girl In Om, Zoe Report, Expanded Podcast, i-D, Bustle, Hollywood Reporter, Elite Daily, Influencer Digest, and more. Visit her at vibratehigherdaily.com.
Praise For…
---
"Lalah's honesty and vulnerability shine through these pages. Vibrate Higher Daily is proof that when we put in the self-work and stand in our truth, we can make space for our joy to unfold freely." — Alexandra Elle, author of Today I Affirm
"I'm drawn to Lalah because of her gentle delivery that encourages you to vibrate and reach higher. She doesn't make you feel bad for your triggers, she gently reminds you to feel, and to practice not allowing things to keep you down or beneath who you were created to be!" — Michelle Williams, Grammy-award-winning artist and former member of Destiny's Child
"Lalah is truly a light and her openness and vulnerability shines through in journey and lessons for us. To Vibrate Higher Daily is to consistently live in purpose and Lalah reminds us of how to intentionally do that during all moments of our lives." — Noor Tagouri, Journalist, Producer, Motivational Speaker, Activist
"Among all the voices emerging in the wellness sphere today, none are more essential than Lalah Delia's. Vibrate Higher Daily is exactly what our world needs right now." — Ashley Neese, Author of How to Breathe, Breathwork Teacher
"This book is so relevant and makes so much sense. Thank you Lalah for sharing your wisdom in such a true and relatable way. A beautiful guide that takes us home to ourselves." — Kelly Rutherford, Actress
"Lalah Delia delivers a way to reclaim your power, activate your potential and rewrite your inner programming. Vibrate Higher Daily can give you the inspiration you need to change your life." — Yung Pueblo, author of Inward, Meditator, a.k.a. Diego Perez
"Lalah is an unmatched light of inspirational energy and this book is a distinct reminder of that. This book will give all readers the tools and inspiration to reframe their perspective and embrace vibrational-based living for a happier life." — Tania Metti, Talent & Influencer Curator, Girlboss
"Vibrate Higher Daily encourages you embrace the hardest parts of yourself and offers a gentle roadmap towards inner accountability and self-care. Lalah is the real deal, her words will resonate and bring healing to many for years to come." — Erica Chidi Cohen, CEO and Co-Founder of LOOM, Author of Nurture