Love Her or Lose Her: A Novel (Paperback)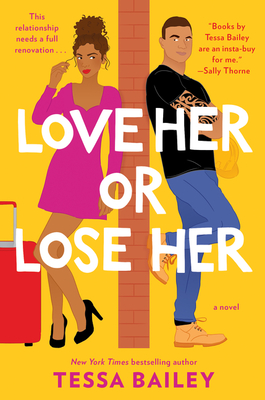 $15.99

On Our Shelves; Typically Ships in 1 - 2 Days
Description
---
Named one of the Best Romances of 2020 by Insider and Oprah Magazine + Marie Claire's Best New Books of 2020
New York Times bestselling author Tessa Bailey returns with a unique, sexy romantic comedy about a young married couple whose rocky relationship needs a serious renovation... 
Rosie and Dominic Vega are the perfect couple: high school sweethearts, best friends, madly in love. Well, they used to be anyway. Now Rosie's lucky to get a caveman grunt from the ex-soldier every time she walks in the door. Dom is faithful and a great provider, but the man she fell in love with ten years ago is nowhere to be found. When her girlfriends encourage Rosie to demand more out of life and pursue her dream of opening a restaurant, she decides to demand more out of love, too. Three words: marriage boot camp. 
Never in a million years did Rosie believe her stoic, too-manly-to-emote husband would actually agree to relationship rehab with a weed-smoking hippie. Dom talking about feelings? Sitting on pillows? Communing with nature? Learning love languages? Nope. But to her surprise, he's all in, and it forces her to admit her own role in their cracked foundation. As they complete one ridiculous—yet surprisingly helpful—assignment after another, their remodeled relationship gets stronger than ever. Except just as they're getting back on track, Rosie discovers Dom has a secret... and it could demolish everything.
"Her voice feels as fresh and contemporary as a Netflix rom-com." —Entertainment Weekly
About the Author
---
New York Times bestselling author Tessa Bailey aspires to three things. Writing hot and unforgettable, character-driven romance, being a good mother and eventually sneaking onto the judging panel on a reality show baking competition. She lives on Long Island, New York with her husband and daughter, writing all day and rewarding herself with a cheese plate and Netflix binges in the evening. If you want sexy, heartfelt, humorous romance with a guaranteed happy ending, you've come to the right place.
Praise For…
---
"Books by Tessa Bailey are an insta-buy for me." 
— Sally Thorne, USA Today bestselling author of The Hating Game and 99 Percent Mine

"Bailey writes banter and rom-com scenarios with aplomb, but for those who like their romance on the spicier side, she's also the Michelangelo of dirty talk. She wields filth like Da Vinci does a paintbrush, and there's a lot to be said for an author who can fill such exchanges with all the requisite heat, enthusiastic consent, and yes, even humor, of such a scenario without veering into corny territory..."
— Entertainment Weekly on Fix Her Up

"Bailey loads the story with humor and chemistry while still tackling heavy emotions. Sensual sex scenes and irresistible characters will draw readers in to this sweet romance."
— Publishers Weekly

"Bailey once again hits it out of the park in this companion novel to Fix Her Up... From no sex to phone sex to a striptease to an orgy in the woods, Bailey is an expert in those lusty, sexually powered scenes. Perfect for fans looking for a sexy romp with a side of heart." 
— Booklist

"a juicy rom-com"

— Marie Claire (The Most Anticipated Books of 2020)

"Bailey crafts an emotionally wrenching and compelling story of a marriage and how the spouses' different love languages cause them to miss each other's signals... a powerful story of a marriage in trouble."
— Kirkus Reviews