Mercy Street: A Novel (Paperback)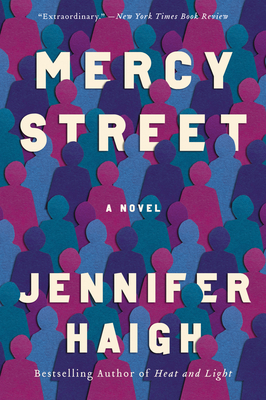 $17.99

Usually Ships in 1-5 Days
Staff Reviews
---
Mercy Street explores the hot-button issue of safe, legal abortion through the eyes of a reproductive health counselor who must cross a line of angry protestors to go to work every day. The novel then pivots and examines the backstory behind pro-life activists. In moving, straight-forward prose, Haigh examines people's different levels of "choice," and addresses issues of class, diversity, and loneliness.
— Eve
Description
---
WINNER OF THE MARK TWAIN AMERICAN VOICE IN LITERATURE AWARD
NATIONAL BESTSELLER
Named a Best Book of the Year by the Washington Post, the New Yorker, and the Boston Globe
"Ms. Haigh is an expertly nuanced storyteller long overdue for major attention. Her work is gripping, real, and totally immersive, akin to that of writers as different as Richard Price, Richard Ford, and Richard Russo."—Janet Maslin, New York Times
The highly praised, "extraordinary" (New York Times Book Review) novel about the disparate lives that intersect at a women's clinic in Boston, by New York Times bestselling author Jennifer Haigh 
For almost a decade, Claudia has counseled patients at Mercy Street, a clinic in the heart of the city. The work is consuming, the unending dramas of women in crisis. For its patients, Mercy Street offers more than health care; for many, it is a second chance.
But outside the clinic, the reality is different. Anonymous threats are frequent. A small, determined group of anti-abortion demonstrators appears each morning at its door. As the protests intensify, fear creeps into Claudia's days, a humming anxiety she manages with frequent visits to Timmy, an affable pot dealer in the midst of his own existential crisis. At Timmy's, she encounters a random assortment of customers, including Anthony, a lost soul who spends most of his life online, chatting with the mysterious Excelsior11—the screenname of Victor Prine, an anti-abortion crusader who has set his sights on Mercy Street and is ready to risk it all for his beliefs.
Mercy Street is a novel for right now, a story of the polarized American present. Jennifer Haigh, "an expert natural storyteller with a keen sense of her characters' humanity" (New York Times), has written a groundbreaking novel, a fearless examination of one of the most divisive issues of our time.
About the Author
---
Jennifer Haigh is the author of the short-story collection News from Heaven and six bestselling and critically acclaimed novels, including Mrs. Kimble, Faith and Heat and Light, which was named a Best Book of 2016 by the New York Times, The Washington Post, the Wall Street Journal and NPR. Her books have won the PEN/Hemingway Award, the Massachusetts Book Award and the PEN New England Award in Fiction, and have been translated widely. She lives in New England.
Praise For…
---
"Extraordinary . . . Wonderfully entertaining, boasting a large, varied cast of vividly drawn characters whose company readers will find deeply rewarding, in no small part because lurking in their shadows is the devastatingly wry humor of their creator. . . . [Haigh is] paying close attention to their choices, large and small. That's not artifice, it's art. And I was gobsmacked." — Richard Russo, New York Times Book Review (Editors' Choice)
"[Haigh is] a superb unsung novelist hovering just under the radar. . . Abortion, guns, vigilantism, drug dealing, white supremacy, bitter misogyny and online fetishism all figure in the tableau Haigh expertly details. . . . Her books might feel traditional if she relied on simple structure, but she likes Altmanesque ways of weaving characters together. . . . She's largely not interested in destruction here: These people have seen enough of it already. She's interested in what makes them human." — Janet Maslin, New York Times
"Haigh deftly walks across the fault line of one of the most divisive issues of our age, peeling back ideology and revealing what all ideology refuses to recognize: an individual's humanity. . . . Mercy Street argues, both in form and content, that compassion is a powerful counterpoint to the conflict-driven stories that dominate our news cycles, our news feeds and our Netflix queues. In Haigh's world, in other words, mercy may no longer be fashionable, but it sure is necessary." — San Francisco Chronicle
"Terrifically readable."  — Wall Street Journal 
"Perceptive. . . . In Haigh's expert hands, [Mercy Street] explores how we arrive at the beliefs we hold." — Real Simple
"Fiction is often a more alluring vessel of truth than nonfiction, and in her recently lauded novel centered on a Boston abortion clinic in 2015, Haigh depicts lives that intersect publicly as her characters grapple with the most intimate of decisions. From a clinic hotline manager to a gaggle of anti-abortion protestors, Haigh boldly seeks out moral nuance, melding crystalline language to a topical story that twists and turns toward a stunning crescendo." — Oprah Daily