The Black Hand: The Story of Rene "Boxer" Enriquez and His Life in the Mexican Mafia (Mass Market)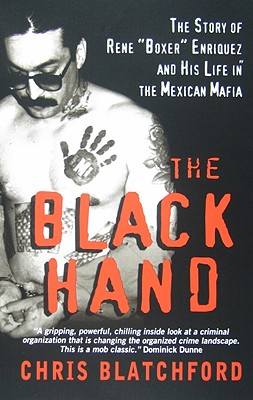 $7.99
Email or call for price.
Description
---
An intense and shocking inside look at the inner workings of La Eme, the Mexican Mafia (La Familia Mexicana), The Black Hand is the story of loyal soldier Rene "Boxer" Enriquez, his life of crime, and his ultimate redemption. Award-winning investigative journalist and author Chris Blatchford tells the never-before-told true story of the most powerful gang in America—and one of the most brutal and ruthless criminal organizations in the world—who control the California underworld and wave the flag of The Black Hand.
About the Author
---
Chris Blatchford is an investigative reporter and author of the Los Angeles Times bestseller Three Dog Nightmare. He has won numerous commendations and awards for his reports, including nine Emmy Awards and a Peabody for his investigation into Italian Mafia infiltration of MCA/Universal's music and home video divisions. He lives in Los Angeles.
Praise For…
---
"Blatchford is well-suited to tell this story . . . he captures the nuances and nihilism of the prison world . . . The narrative is interspersed with fascinating prison arcana." — Los Angeles Times
"A gripping, powerful, chilling inside look at a criminal organization that is changing the organized crime landscape. This is a mob classic." — Dominick Dunne
"A fascinating, vivid and unforgettable insider's look at the bloody, secret and deadly Mexican Mafia. Chris Blatchford's compulsively readable wake-up call spares no one and names everyone, including the politicians who aid and abet this dangerous criminal organization, through corruption, maddening naiveté, or political correctness." — Joseph Wambaugh
"A courageous and well-written exposé on one of the most ruthless and powerful gangs of all, the Mexican Mafia. Chris Blatchford reaffirms his position as being among Americans greatest investigative reporters." — Vincent Bugliosi, author of Helter Skelter
"Chris Blatchford has hit a grand slam. The Black Hand is an important page turning book that will take you into a frightening dark world that shouldn't exist… but it does. It's riveting, and when you finish the book, you'll get up and lock your doors. Highly recommended." — William "Billy" Queen, retired special agent ATF and bestselling author of Under and Alone
"A fascinating look at the world of the Mexican Mafia, more ruthless than the LCN. A must read for law enforcement and a tribute to the courage of 'dropout' Rene 'Boxer' Enriquez." — Joe Pistone, aka Donnie Brasco